Code of Conduct for Examinations Outside Pakistan
A. OVERSEAS EXAMINATION RULES
The following rules are to be observed by the student at the time of examination:
1. The University shall conduct examinations of overseas students on an individual basis. However, the University may, at its discretion, conduct overseas examinations at centers formally designated for the purpose.
2. Student will be responsible for providing the prescribed examination environment.
3. Exams will be conducted according to Pakistan Standard Time (PST).
4. Student will be required to log in to the Exams 15 minutes before the exam starting time.
5. Student will be individually monitored and Recorded by invigilator appointed by the Controller of Examinations and unmonitored papers shall not be accepted.
6. Student MUST be abroad (i.e. out of Pakistan) to appear in online exam.
7. Workspace MUST contain only one computer, one USB webcam, one monitor, one keyboard, and one mouse. No external device except USB webcam should be attached with laptop.
8. Bluetooth adapter must be disabled.
9. Audio adapter must be enabled and running with a working microphone.
10. Only Exam application and TeamViewer MUST be running.
11. Webcam view MUST be well lit, clearly visible and focused on surrounding workspace.
12. Studentís workspace MUST be clutter free, quiet, and free from distraction.
13. Student MUST show the invigilator their complete surrounding with webcam.
14. Student MUST not lean out of or obstruct webcam view during exam.
15. The webcam MUST not disconnect at any time during the exam session.
16. Plain rough sheet MUST be used in front of webcam.
17. No one MUST be around student and their workspace during exam session.
18. Reading the exam aloud is prohibited.
19. Student MUST not leave seat at any time during exam session.(In the event of an emergency, student MUST follow instructions given by the invigilator.)
20. Local students wanting to appear from overseas MUST obtain prior permission from the Controller of Examinations a week before exam.
Overseas Examinations are conducted online using specialized exam software. Only Overseas Students are required to download the exam application from the following link http://qb.vu.edu.pk. A step by step installation guide of exam software is also provided there. After installation, a student must attempt a Demo Test (Available approx. 10-12 days before the start of every exam) at least once to verify the exam software is functioning appropriately. For smooth and problem free examination, it must also be tried in letter and spirit of the actual examination.
Please carefully read the Pre-requisites and Instructions of the Examination Procedure.
1) PRE-REQUISITES:
a) Exam Application Technical Requirements
i. A single standalone workstation (Laptop or Desktop) with Windows operating system (XP or above).
ii. A stable wired internet connection with minimum of 2 Mbps upload/ 2 Mbps download.
iii. An External USB Webcam with built in microphone (Not an IP or wireless webcam)
b) Software Requirements
i. Download and install VUTES exam software from following link http://qb.vu.edu.pk.
ii. Download and install TeamViewer software on workstation from following link: http://qb.vu.edu.pk.
Note: Install the TeamViewer software for Personal/Non-Commercial use.
iii. Disable antivirus and windows firewall before the start of paper.
iv. System default language MUST be English (United States). It can be set from Control Panel -> Region and Language -> Format
v. No proxy software/remote control software (except TeamViewer) should be installed or configured on the machine (like ultra-surf, hotspot shield, LogMeIn etc.).
vi. Disable Internet Explorer Proxy settings. It can be disabled from Internet Options -> Connections -> LAN Settings and uncheck proxy server settings.
vii. Do not configure external webcam other than exam application (like MSN, Yahoo, Skype etc.); otherwise exam application will not detect the external webcam
c) External Webcam technical requirements
i. Video Resolution of 720p.
ii. Frame rate 30 fps.
iii. USB Connection (Not an IP or wireless webcam).
iv. Built-in microphone.
v. Heavy base and flexible neck to allow easier placement is recommended.
vi. Cord length of 6í (2m) or more.
vii. The external camera MUST provide a perspective of the PC, keyboard, mouse, hands and full face, and a minimum view of 12 inches (30 centimeters) on either side of the keyboard (i.e. for rough sheet workspace).
Prescribed View of Webcam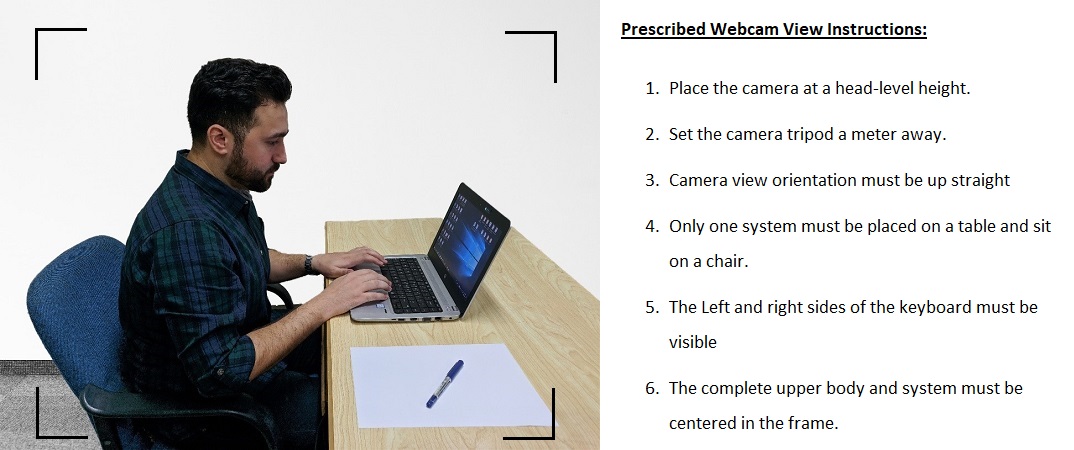 Note: You may use your mobile as an external webcam. Download and install DROIDCAM app on your mobile phone and on your workstation from following link: DROIDCAM Website.
2) Remote Invigilator:
A remote Invigilator will be assigned to a student for invigilation during exam. Initially the Invigilator will complete the identification process of a student through live video feed. A student MUST upload a recent picture of no older than 6 months. During the identification process, the Invigilator will ask student to show their surroundings to ensure student is alone in their room for the examination to take place. For system verification process, studentís system will be inspected to verify if the workstation is operating according to the pre-requisite requirements and prescribed rules.
As per University rules and policy, female student will be invigilated by a female invigilator. After identification and system verification process is completed, student will be allowed to start their paper during which the Invigilator will remain available until the completion of exam.
3) Important Notes:
i. Candidates will be responsible for providing the prescribed examination environment.
ii. Exams will be conducted according to Pakistan Standard Time (PST).
iii. Candidates will be individually monitored by invigilators appointed by the Controller of Examinations and unmonitored papers shall not be accepted.
iv. Student must report to the invigilator 15 minutes before the start of each paper.
Copying /Transmission/Publication of Examinationís question paper in any form is strictly prohibited and will be considered as serious offence and falls under the following Misconduct:
Whoever with dishonest intention and without authorization copies or otherwise transmits or causes to be transmitted any data shall be will be penalized as per University rules and policy.
So, anything which is not yours and you are proven to have copied data or transmitted it, then this section will get activated.Ē
Examples:
1. Taking screen shots of your question paper i.e. by using print screen button, by using any external software, by using webcam, by using mobile cam etc. and published it on social media.
2. Transmission and publishing of question paper in hard form.
A Zero-Tolerance policy is adopted by the University towards malpractice and misconduct cases during examination. Such cases will be forwarded to the Committee Of Unfair Means for scrutiny.
The following acts shall be liable to disciplinary action and/or immediate cancellation of a studentís paper:
1. Studentís camera view is not as per prescribed instructions.
2. Uses an ear phone or communication device of any type.
3. Student goes offline during paper due to any reason.
4. Student is involved in any type of cheating.
5. Student appears from within Pakistan using the overseas examination environment.
6. Student is receiving help from someone in any form.
7. Use of hidden remote-control software.
8. Use of Windows Virtualization software.
9. Intentionally disrupting video or audio hardware.
10. Impersonation.
11. Misbehavior with invigilator.
12. Use of not allowed software/ items.
13. Copying / Transmission / Publication of exam question paper.
In case of any problem faced during paper, a student must IMMEDIATELY report to invigilator in Exam software chat or call/whatsapp at , +923000656908, +9242111880880, ext.: 352 and/or Skype addresses (Skype address is ďoverseasexamsĒ).